This client in Canterbury wanted to have an extension carried out to create a larger living space at the rear of their property. They had plans drawn up by an architect for a large kitchen area, with space for a downstairs bathroom and utility room. There were also plans to create a new staircase as part of this space. Once we had visited the site and finalised a quote, we worked closely with the architect, structural engineer, and building control to make sure that everything ran smoothly with the project. All regulations were followed, and the client was kept informed throughout the process so that the extension was completed to their precise specifications.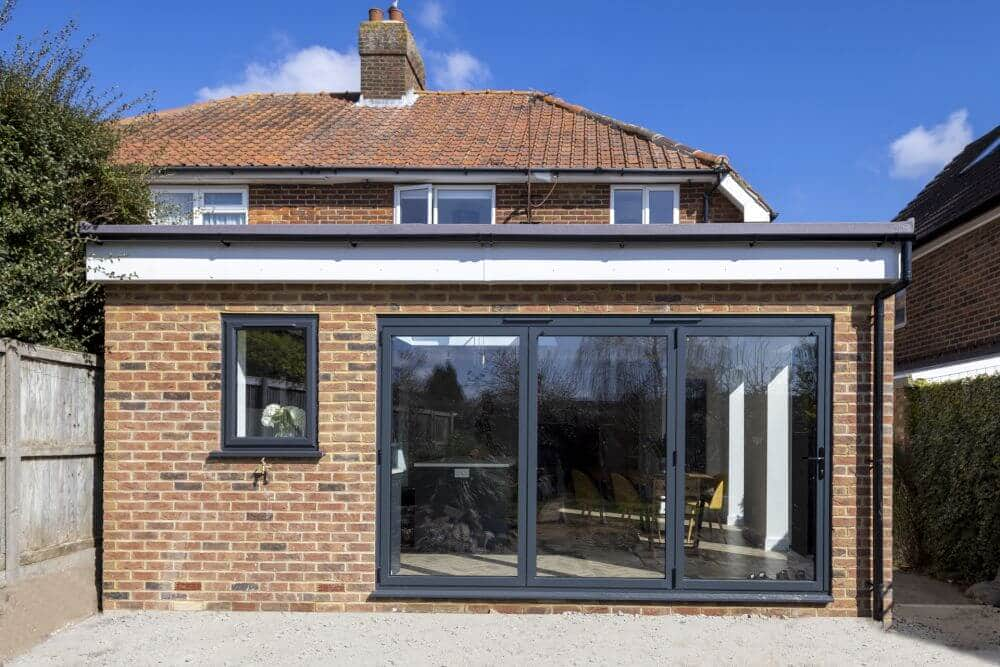 What work was carried out at this project?
Single-story rear extension with the installation of new kitchen, bathroom, utility room, and staircase.
List of work completed
Construction of rear extension
Installation of new kitchen
Installation of new bathroom
Installation of new windows, bifold doors, and a sky lantern
Laying of new laminate flooring throughout the downstairs space
Construction of new stud walls to create utility room and bathroom
Laying of new patio
Installation of new staircase
What challenges did we face on this project?
Once the project began, it became clear that the original building structure was not able to withstand strong winds, so would not meet building regulations. In order to safely continue the project, wind posts were installed with the approval of the client so that the structure became more secure.
We kept the client updated throughout so that they understood the original plans would have to be adjusted, then worked with them to ensure they were happy with the new approach. This was delivered to perfection despite these complications so that they could begin to make the most of their new space.
Take a look at our other projects
Contact our team at Prime Construction