Kitchen fitters in Sittingbourne
If you are looking to carry out a full kitchen renovation for your property, our highly recommended kitchen fitters in Sittingbourne can take care of the complete fitting process. Whether it's part of a larger extension project, or you want to completely replace your existing kitchen, we can carry out the removal and installation process to your specified requirements to leave you with your dream new kitchen space. Our experienced team have carried out high-quality kitchen renovations throughout Sittingbourne and the surrounding areas, creating open plan kitchen diners and using modern features such as kitchen islands for a contemporary feel. To get started with your new kitchen transformation, speak to one of our experts by calling 01795 431378.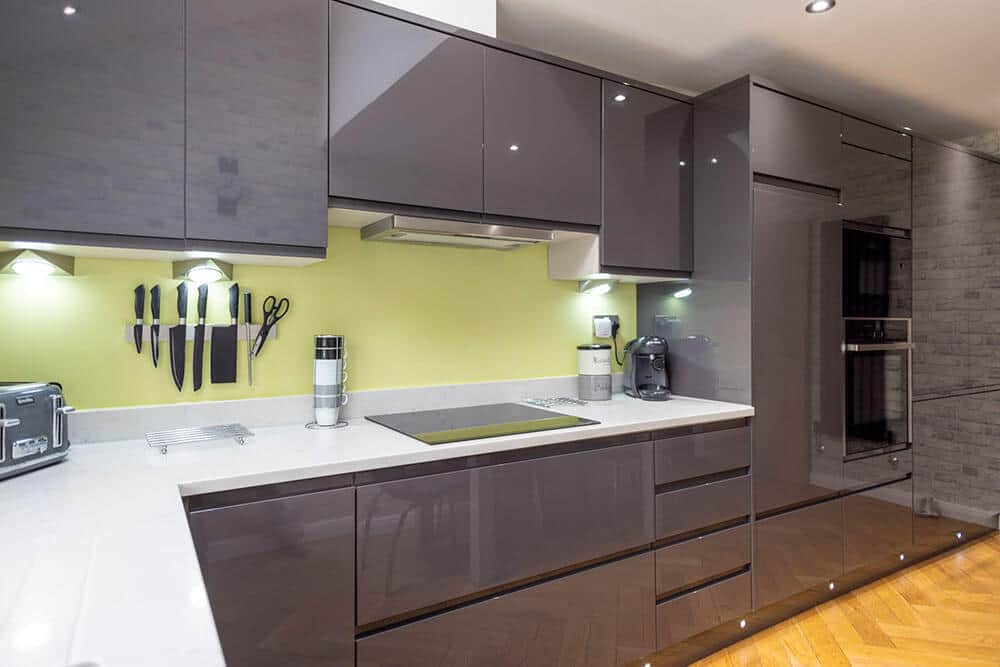 What types of bespoke kitchens can we fit in Sittingbourne?
The space you have available in your Sittingbourne property and whether you are planning on altering the current layout of your kitchen will affect which designs you should be considering. We can fit a bespoke kitchen that is ideal for your home. Some of the options available to you include:
Straight kitchens
The most classic kitchen layout, straight kitchens are a good choice if you have limited space. They are convenient whilst still providing sufficient storage space for all your cooking and cleaning utensils. Despite their simple layout, there are still plenty of design possibilities for straight kitchens.
Island kitchens
For a more open plan layout, island kitchens are popular due to their modern design and functionality. These are often most suited to a kitchen diner and can be used for hosting guests or providing a hub for the family. This makes your kitchen a more social space rather than an area just for cooking.
Parallel kitchens
Similar to a straight kitchen, parallel kitchens offer more worktop space for appliances or food preparation. This shape of kitchen is also more functional for cooking and carrying out multiple tasks at once, with an abundance of cupboard space to store pots or plates.
L-shaped kitchens
If you have a small to medium amount of kitchen space available, an L-shaped layout is practical and effective. For this design to suit your home, your kitchen area must have two walls forming a perpendicular angle. This is a popular choice due to how easy it is to keep an organised kitchen, whilst still being spacious.
Request your kitchen quote in Sittingbourne
If you want to begin your kitchen renovation project within your Sittingbourne property, speak to our team today by calling 01795 431378 or emailing info@primeconstructionltd.co.uk. You can also fill in the contact form and we will get back to you promptly.
What is our kitchen design and installation process in Sittingbourne?
If you decide to have your kitchen installation carried out with us, we will follow a specific process to make sure that everything goes to plan within your Sittingbourne property. This involves three main steps:
Initial quote
Once you have put your bespoke design plans in place for your new kitchen, we can arrange a visit to your property to talk through these plans with you. This will also help us to put together a detailed quote for the project, which we will provide within 72 hours of our visit.
Project begins
If you are happy with the quote and we have reviewed the details of the contract with you, we will arrange for our team to start work at your property as soon as possible. We will carry out an efficient removal of your previous kitchen and carefully manage the entire renovation process, fitting kitchen tiles and new kitchen worktops. Our senior project manager will visit the property regularly making sure that this element of your renovation goes smoothly.
Quality check
After any construction and installation are complete, we will only finish work on your new kitchen once everything has been checked to meet our high standards. When our quality check has been completed, we will talk you through your new renovations and make sure that you are happy with the final result.
What kitchen building regulations do you need to be aware of in Sittingbourne?
When you are having a new kitchen fitted, if no major alterations are being made then you won't need any building regulations approval from your local authority. However, if your renovation plans involve alterations and the installation of new appliances, then you will likely require building regulations approval. Any plumbing and drainage alterations you make, such as adjusting the position of kitchen taps, or any new electrical installation will need to meet all safety standards. When it comes to elements such as doors and windows, these being changed could affect escape routes in the event of an emergency, so these will also require approval. It may be worth consulting an architect to receive professional design advice before finalising your plans.
Our advice
Before transforming your kitchen, you should choose a builder that is experienced and has a team of experts who possess the skills for the job. Take a look at our advice when choosing a builder.
Why choose our kitchen fitters in Sittingbourne?
Contact our team at Prime Construction
If you would like to speak to our team regarding kitchen renovations for your Sittingbourne property, contact us today so that we can discuss your project in further detail. Give us a call on 01795 431378 or email info@primeconstructionltd.co.uk to get started.