New home builders
If you are looking to create your dream property constructed to your exact specifications, rely on our new home builders to help create everything you imagined and more. Our construction and trade experts can manage every element of the process from laying the foundations right up to fitting the final windows and doors. You can work closely with our network of professional architects to develop the plans for your perfect home within your defined budget, and we guarantee that these will be executed to perfection. Once you have finalised your plans, we will assess the site of your new home, carefully looking at every aspect of the construction process before providing you with a detailed quote so you can have a clear idea of the costs involved.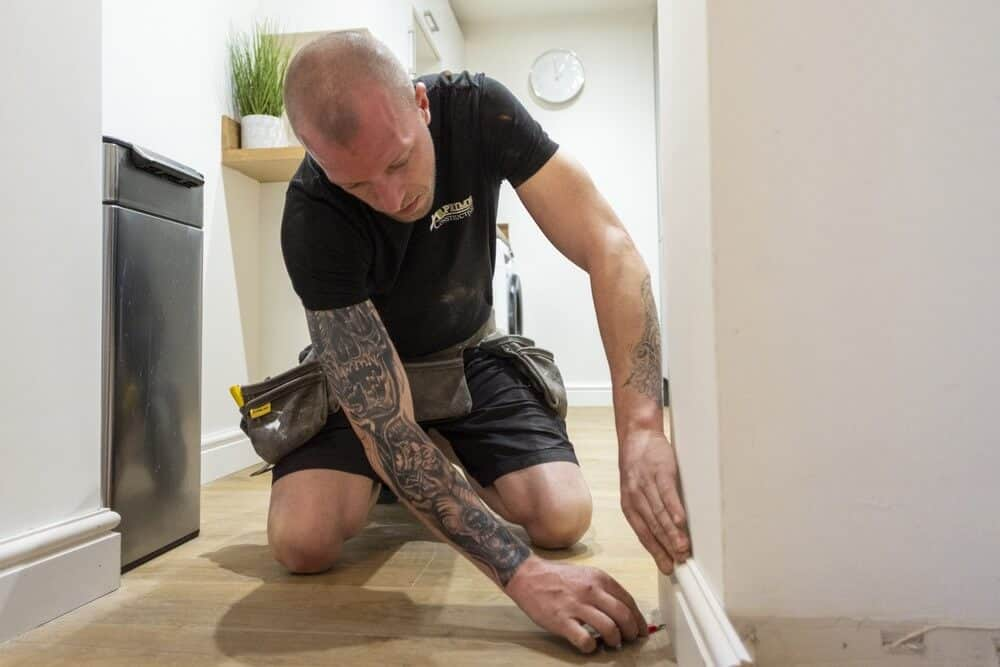 Read our reviews
Hear from our clients and see why we're the right choice for your new build project.
Who can we help with new builds?
Individuals
For those who can't find anything on the market to suit their needs and want to start from scratch, our home builders in Sittingbourne can construct a property that meets all your requirements. Once you have finalised your plans, we will put these into action and will keep in regular contact throughout the process until your new home is ready for you.
Property developers
If you are a property developer in Sittingbourne planning to build on a large site for multiple homes or redeveloping a home to sell or let, we can work with your team of architects to deliver the highest quality properties for your new development project. We have the expertise throughout our network of experts to manage the construction process and ensure everything goes to plan.
How much will a new build cost?
How much your bespoke new build costs will depend on a number of factors. The larger the square footage of the property, the higher the quantity of materials required. Costs will also depend on the structure of your new build and what you decide is the most suitable material choice for the construction process. Once your plans have been finalised, our team can discuss your project with you before providing an accurate quote.
Request your new build quote
Call 01795 431378 or email info@primeconstructionltd.co.uk to discuss your new build plans with one of our experts. We would love to learn more details about your project and discuss how we can deliver your ideal home.
What is our new build process?
We will follow a detailed process to construct the perfect new build property for you, which involves three main steps to provide the highest quality service:
Initial quote
Once you have finalised the plans for your new build, we will be able to provide you with a quote for the project. We will visit the site to determine your requirements, assessing the amount of time and labour required to construct your home so that we can offer you the most detailed quote possible. We will talk through the contract with you to make sure you are happy with all the finer details.
Construction begins
Having agreed on the terms of your new build and finalised the plans for the construction process, we can get started building your dream home. Your property will receive a weekly visit from the senior project manager to ensure quality is delivered at every stage. As the project progresses and the property begins to take shape, you can follow along closely using online software to see how close we are to completion.
Quality check
Once complete, not only is it essential to ensure that your new build meets all building regulations, but we also carry out our own checks to ensure that every aspect of the property meets our high standards. Only once you are completely satisfied and we have comprehensively checked over the property will our work be complete.
Do you need to apply for new build planning permission?
If you are constructing a new home, you will need to apply for planning permission from your local authority before work can begin. You should make sure your plans take into consideration factors that will affect your neighbours. These include loss of sunlight, loss of privacy, noise or disturbance, the appearance of the building, and traffic issues, amongst other things. Consider these factors throughout the planning process so that there are less likely to be any problems when submitting your planning permission application. It is worth consulting an experienced architect so that these factors are taken into account when putting together your plans.
What building regulations do you need to be aware of for your new build?
Building regulations are set rules that you must follow throughout the construction process. You will need to contact your local authority or an approved inspector who can provide you with advice and check that your property meets all building regulations. They will conduct regular site visits throughout construction, checking your property against standards for structural safety, fire safety, ventilation, sanitation, and other safety elements. Arranging this with building control services as early as possible in your project will save you hassle in future and avoid your project being held up.
Our advice
Before deciding on a suitable builder for your new build project in Sittingbourne, you will want to consider their reliability and take a look at some previous reviews so that you can be sure you are choosing someone with the necessary knowledge and experience. Take a look at our top tips before beginning your project.
Why choose us as your house builders?
Contact our team at Prime Construction
If you are ready to put your plans into action and begin constructing your ideal new build home, discuss it with our experts at Prime Construction. Call us now on 01795 431378 or email info@primeconstructionltd.co.uk to find out more about how we operate. We would be happy to help.